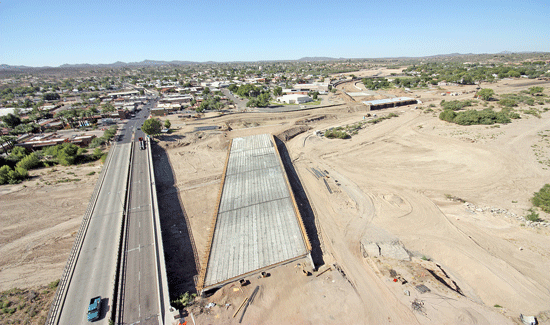 US 93 & Hassayampa River Wickenburg, AZ
---
Description: Wickenburg Bypass, Wickenburg, AZ involved dewatering of groundwater with 28′ excavation for soil cement. In addition, borrow pits had water significantly higher than originally shown requiring a re-sequencing of the construction project to locate the aggregates within the project limits rather than external borrow sites stipulated in the project documents. This process was done while maintaining the master schedule. While drilling shafts 110 feet deep, two bridges built in the late 1800's to early 1900's were discovered. One was built out of wood piling which was used as a telegraph bridge. The other was built with rock and mortar and used for the usual form of travel in those days with horse and carriage. The Wickenburg Bypass is not only designed to detour traffic around Wickenburg, it also acts as a levy to take the town off the 50 year flood zone status and into the 100 year status.
---
Facts:
Prime Contractor for construction of 1.69 miles of new five lane roadway.
Replacement of a bridge and raising of another over the Hassayampa River.
Constructed a new bridge over Sols Wash.