Pre-Construction
---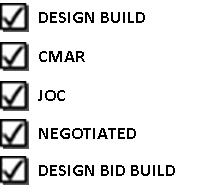 We have a comprehensive preconstruction approach that focuses on getting all the necessary information collected, analyzed and agreed upon to get your project under construction as quickly as possible.
Our pre-construction team is involved from the beginning of the project through construction creating a seamless transition to construction, and most importantly the delivery of a GMP you can trust and be confident in. Regardless of the alternative delivery process, the one chosen is effective through open communication and real time decision making, placing primary emphasis on integrating design and construction. Markham's team will be the catalyst and coordinator, managing the project to achieve the owner's goals and providing essential design phase services including value engineering, scheduling, estimating, cost reporting, and other value-add options.
We utilize the newest technologies in our estimating including Hard Dollar for cost analysis, Onscreen Takeoff and Earthwork 3-D and Materials 3-D software by Agtek to accurately quantify earthwork and materials in the estimating process. These tools allow us to incorporate different variables depending on the specifications of your project and provide accurate quantities and models that can be used throughout the construction process.